Services
Services that deliver results
Our combination of state-of-the-art acoustic equipment and years of extensive field experience makes SAMCO the experts in leak detection services for municipal, military, desalination, and commercial properties.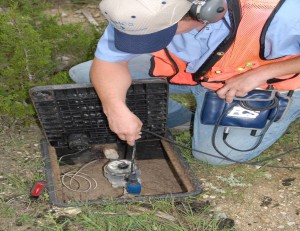 Acoustic Leak Detection
Equipped with sensitive listening devices, experienced SAMCO technicians can identify the sounds of leaking water, which enable us to identify and pinpoint the source so you can reduce water losses.
Visual Leak Detection
Visual on the ground inspections are essential to a productive and successful leak survey in areas of geographic concern, as unknown leaks in seldom visited areas can be the source of the larger individual losses and critical failures.
Water Conservation Consulting
SAMCO's professional, "hands on" field experience gives us the expertise that utilities can count on for consulting services including:
Leak detection preventative maintenance  programs
Comprehensive water accountability assessment
Leak detection program consulting
Water audits & meter testing
Leak detection equipment sales and consulting
GPS sub-thirty centimeter solutions data collection
GPS leak survey mapping design
Global Positioning System (GPS) Services
SAMCO technicians use highly accurate Global Positioning System (GPS) equipment and state-of-the-art acoustic equipment to find subsurface leaks. They are able to detect and locate the smallest of leaks and other sources of water loss for pressurized water systems anywhere in the world. Once the acoustic field detection and location work is completed, the data are imported into the Geographic Information System (GIS) for display and analysis. SAMCO works to halt and prevent water losses, so towns, cities, rural communities, utility districts, military bases and even remote islands can begin a more successful program to conserve their available water resources. While SAMCO is acoustically inspecting the water system, field staff can collect valuable sub-thirty centimeter accurate geographic information which can be incorporated into maps and new or existing Geographic Information Systems (GIS) applications. These GIS data support capital improvement programming, GASB response, maintenance and leak repair implementation, emergency planning and response, and customer service relations.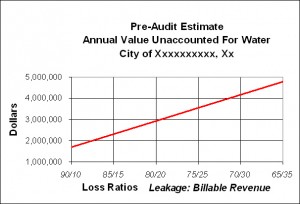 Comprehensive Water System Assessment
Comprehensive Water System Assessments are provided by Advanced WaterMetrics (AWM), an independent consulting Samco affiliate that has more than 30 years' experience in water system accountability.  AWM provides objective, in-depth analyses of water system operations that, in overall terms, primarily help the water utility system close the existing annual gap between the volume of water produced and the volume of water billed or otherwise metered to end users.  In addition to other objectives, the system assessment also evaluates meter management procedures with the objective of maximizing customer meter efficiency, while minimizing costs associated with acquiring, and maintaining a cost-effective metering system.
Every Advanced WaterMetrics system assessment is tailored to meet the specific needs and conditions of the individual system.  While SAMCO leak detection services have a direct positive impact on the physical loss of water from the distribution system, the primary focus of the water system assessment is maximize water revenue, thereby providing an excellent complement to the total water accountability picture.