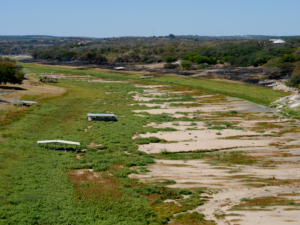 Living in Texas, droughts are a common place throughout the state. Currently, Texas has been experiencing one of the worst droughts since 2011, and it appears there will not be much reprieve in sight. Resulting from the relentless heat wave and record breaking temperatures, agriculture professionals are feeling the heat, so to speak. Between hay supplies tightening, livestock sell off's, burn bans and more importantly strict water conservation employments, this Texas drought is starting to take its toll.
Water conservation couldn't be more important than it is now. However, there are few topics more important than water conservation. For instance, the water you have available today will be the cheapest water you will ever own. Water conservation has a hefty price tag that can be determined with a water audit. Why a water audit? The importance of balancing your books with water in and water sold will reveal how much this is costing you. Additionally, the drought is causing massive utilities difficulties that can be better managed with a well-planned conservation strategy and a financial funding plan. It's a topic that will certainly remain a paramount concern for years to come. Even with an environmentally conscious population, there are still many factors which affect a utility that should be targeted and maintained consistently.
These problems can start as minor or large leaks in your water systems due to aging infrastructure or lack of subsurface maintenance or planning.  Without proper detection, planning and assessment, these problems can cause unforeseen utilities issues that drain the revenues of this very precious resource. Unfortunately, this happens more frequently due to the hidden water loss that requires professional experience necessary to target and analyze underground water systems.
Employing a professional Leak Detection company such as SAMCO, to assist in identifying these areas of concern who will provide a proactive report and findings of what is in need of repair and improvement. As a benefit of these reports they can in turn be inserted into funding applications and grants.
We're losing water at an alarming rate caused by an ageing infrastructure and record breaking drought conditions. It's an incredible risk to our society and should be taken very seriously. To do that, it will require conservation actions at a scale you aren't yet achieving which require finances. With over 30 years of experience, SAMCO Leak Detection is a top choice for companies and municipalities seeking a competent company who will be diligent in selecting the most cost-effective methods of water conservation and Leak Detection.
Furthermore, to help ease the pain of what can be a costly finding, there are various funding opportunities available we use for our projects and can help match those with our client's projects and needs. In today's world, we know utilities can't afford to lose money or a precious resource especially in these severe drought conditions.
SAMCO can help guide you through the process to apply for various funding opportunities. We can also work with you to finance your next project by identifying what type of funding you need and where you can get it in the most effective and efficient means possible.
Identifying and prioritizing projects for funding is crucial. For this you need an experienced engineering firm that will patiently and carefully guide you through the process. If you're in need of such an engineering firm, we recommend our trusted partner Southwest Engineers (www.swengineers.com) who are experts in analyzing our leak detection reports and designing water, wastewater, and reuse systems.