Updated on December 8, 2021
Water Accountability, How Much Can You Afford to Lose?
There are few topics more important than water conservation. It's a topic that will certainly remain a paramount concern for years to come. Without proper detection and assessment, these problems can cause utilities unforeseen issues that drain them of revenues. This happens frequently due to the hidden water loss that require proactive maintenance necessary to target and analyze water loss.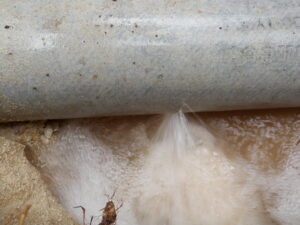 In order to minimize the need to develop significantly more costly alternative or supplementary sources of water for the community you serve, it makes reasonable sense to pinpoint where water is escaping from your distribution system through undiscovered leaks.
In addition, the physical loss of water leaking from your system directly increases the costs of:
·      Water Production
·      Consumables
·      Electricity
·      Treatment Chemicals
·      Membranes
·      Filter Media
·      Sludge Removal
·      Withdrawal Fees to Subsidence and Groundwater Conservation Districts
·      Penalties for Exceeding Volume of Water Under Purchase Contracts
·      Repair to Properties Damaged as a Result of Underground Leaks
·      Distribution
·      Electricity
·      Need for Future User Rate Increases to Cover Costs
In order to pinpoint locations where a water system is losing its precious water and financial resources through undiscovered leaks, contact SAMCO Leak Detention Services. They have the proven state-of-the art technology, and most importantly, the disciplined expertise to find leaks with results on which you can rely.
Think about it this way, take care of today's water for tomorrow's future
For more information about professional services SAMCO offers give SAMCO a call at 512-751-5325